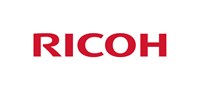 RICOH @Remote is a new kind of support service, which achieves greater operating efficiency for output devices.
RICOH @Remote (At Remote) is a new kind of Internet-based support for remote management of digital multi-purpose devices and laser printers. With the advent of this kind of service, the status of devices on the network can be monitored in real time, required services can be delivered rapidly, and breakdowns prevented and downtime shortened. In the event of a breakdown, the awkward processes of checking the situation and notifying a center can be eliminated, together with their burden on the customer. The automatic meter reading and toner ordering functions also raise the efficiency of day-to-day device management. In addition, the detailed device information in all applicable devices enables more efficient management of the fleet. This service, one step ahead of the competition, began in Japan at the end of last year. A partial service began in the USA from April 2005, and will roll out to Europe, Asia and elsewhere in due course.
What is RICOH @Remote?
RICOH @Remote is a new remote service for networked output devices connected in a LAN/Broadband environment, letting customers use them with greater convenience and peace of mind.
Main Tasks of RICOH @Remote
Minimize manual tasks For example, meters/counters of network-connected MFP and printers are read automatically. Previously, tasks associated with collecting and reporting meters/counters such as the customer checking the meter/counter, then filling out a postcard or making a call, are no longer necessary.
Monitor Fleet Activity Besides the total pages printed by each printer, the service reports detailed device usage information, such as usage of each page size, double-sided printing rate, color/monochrome breakdown, and usage in each mode (copier, printer etc.). Periodic monitoring of each device on the network keeps track of the connection status and usage of each device. That information can be employed in the user's device management, and we can also provide the user with proposals on how to use the devices, based on the environment in which they operate.
Automating Service Call notification to minimize downtime A device's self-diagnostic data is automatically forwarded to the Data Center in the event of a breakdown or other problem.The service provider receiving the information can take immediate and appropriate action, making rapid CE or Service Technician arrangements to simplify the process of requesting a repair, and minimizing device downtime.