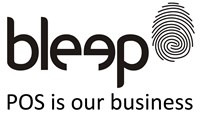 The Bleep TS-915, as seen at the London 2012 Olympic Games, and more recently at the Toronto PanAm 2015 Games, has been designed to cope with every aspect and demand it could face in the retail and hospitality markets, with its custom built attributes allowing it to excel, wherever it is functioning.
Whether at a retail checkout or, customer facing in a trendy bar, the new TS-915 from Bleep is sure to catch the eye, with cool and sharp black and white lines and optional rear seven inch video display, your customers cannot fail to be impressed.
The sleek and stylish, yet space saving design, available in cool white or matte black colours, features two removable front panels which can accommodate an omni-directional laser scanner or an internal RFID reader/writer.
The TS-915 sets a new benchmark and best in class standard, which can be imitated but never equalled.
Specification
15" XGA 350nit LCD Panel
ELO 5-Wire Resistive Touch Panel
Intel® Atom™ Processor D525 (Dual Core, 1.8 GHz)
GMA 3150 on CPU Graphics
64 Bit Instruction Set
Memory 4GB Max (DDR2-667)
Intel® NM10 Express Chipset
Dimensions (mm): W:355 x H:350 x D:220
Ports / Connectivity
2.5" SATA Hard Disk Drive
1 x Compact Flash Port
3 x External Serial RS232 Ports
3 x Internal Serial RS232 Ports
6 x USB 2 Ports
2 x Cash Drawer (24v x 1 Port)
1 x Gigabit LAN
1 x VGA Port
Add-on Modules
Biometric Fingerprint Scanner
RFID Reader Module (125 KHz or 13.56 MHz MIFARE)
USB GPRS/3G/Wi-Fi Module
Integrated Omni-directional Laser Scanner
Integrated OOH Digital Advertising (7" Widescreen LCD Customer Facing Display)
Integrated Security Camera
Magnetic Card Reader (1/2 Track)
i-Button Reader Module
2 x 20 Character VFD Customer Display Module (Blue or Green)
Web-Back Office
Bleep's Web Back Office (W-BO) is a unique, web based product. This means you can gain access to real time data, from literally anywhere in the world, at any time, always keeping you in control of your business. It is a multi user, multi store, multi language, multi level security policy application that is a total back office solution.

As a module driven service, rather than an application, W-BO maintains the competitive edge in that the service is charged for on a monthly basis and modules may be activated or deactivated as and when required, allowing the flexibility to control what you want, when you want.

The basic package is the W-BO Core, containing all of the functionalities needed to control you business on a daily basis, such as, live sales data, end of day reporting and sales and staff performances.

W-BO puts the emphasis upon control. 
Bleep in Action